Cat Litter Mat - Odor Guard
$14.97
$29.95
SAVE $14.98
Say goodbye to all the litter mess!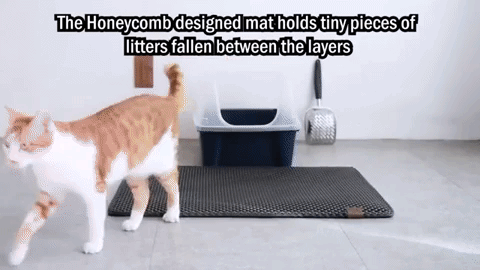 Cat Litter Mat - Odor Guard
The cat litter mat features a?á?ǣhoneycomb?ǥ?átop layer that?álets litter slide in through the holes?áand?átraps it?áon the?ásolid rubber bottom.?áIt has the?áSilver Ion Technology?áthat improves its?áAntibacterial ability.?áKeep your?áfloors clean?áby keeping kitty litter from tracking all over the house with the?áinnovative trap litter mat!?á
Improve antibacterial ability by adding trace amounts of Silver Ions.

Silver?áis a?ápowerful antimicrobial substance?áused to?áfight bacteria, viruses
Mold?áfor more than 2000 years and proven to reduce the growth of harmful bacteria such as?áCampylobacter, MRSA, E.coli, Listeria, Salmonella?áand many other species by up to?á99.99%.

FEATURES
Cat-Friendly:?áThe heavy-duty EVA rubber foam is safe,?ánon-toxic, and completely pet-friendly. And because it?ÇÖs extra durable and soft on their little padded feet, the smooth, comfortable surface will make it easier for your furry friends to get in and out of their boxes.
Recycle the Litter and Save Money:?áTraps litter from cats paws and litter from the box.
Clean with Ease:?á

The litter mats are completely waterproof in case of accidents, catch debris between two rubber layers keeping your home cleaner, and work effectively with all types of cat litter!

100% Waterproof:?á

The bottom layer is waterproof which will not allow any liquid to go through. Protect your hardwood floors and carpets from nasty urine stains. Regular cleaning by running water is recommended.
SPECIFICATIONS
Material: PU
Sizes:?á30x45cm, 40x50cm, 46x60cm, 55x70cm(foldable)

?á