Dinosaur Taco Holder
$14.97
$33.35
SAVE $18.38
Triceratops?áis back... and ready to?ácarry?átwo of your?áfavorite tacos?áon its back!?á
?á
Dinosaur Taco Holder?á
???
Thought to be extinct the prehistoric
?á
Triceratops
?áis back... and ready to
?á
carry?átwo of your
?á
favorite tacos
?á
on its back! If you w
ant to make homemade tacos more fun this is the?ámost clever and cute?á
Dinosaur Taco Holder!
Modeled after a Triceratops dinosaur, this meal-time accessory will turn your next Taco Tuesday Jurassic, devouring tacos with style. It is made of?á100 % food-safe?áABS plastic taco holder can handle just about anything young children do to them. Can hold two hardshell tacos or three soft tacos on the back of a triceratops. You can even?áuse it as a plate.?áWorks great to prepare your tacos!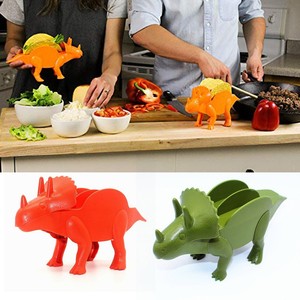 FEATURES
???Non-Toxic:

?á

BPA free

?á

plastic
Holds

?á

2 tacos or other food

?á

for serving and eating
Easy to clean

?á

(not for microwave)
Easy to assemble
Makes any meal a thrilling adventure
SPECIFICATIONS
Size(approx.):?á
Dark?ágreen?ádinosaur:?á25.5*9.2*13.6cm/10*3.6*5.4in
Orange?ádinosaur:?á25.5*9.2*13.6cm/10*3.6*5.4in
Red?ádinosaur??Ü25.5*9.2*13.6cm/10*3.6*5.4in
Product?áweight(approx.):?á250g
Material:?áABS?áfood?ágrade?áplastic
PACKAGE INCLUDED
1*?ádinosaur?ápancake?áholder?á(dark?ágreen?á/orange/red)
?á
?á
?á