Extendable Baseboard Duster
Cleaning baseboards has never been easier with the Extendable Baseboard Duster. It removes the hard work from cleaning baseboards by removing the need to get down on your knees and scrub the dirt and grime.
The adjustable design does the work for you. It allows you to extend the handle to the desired length, place the microfiber pad against the baseboard, and walk as the pad glides and lifts the dirt away. The lengthy handle makes it easy to reach tough spaces behind furniture, appliances, and fixtures such as toilets. Crown molding and door casings suddenly become more accessible. You'll no longer have to drag around a step ladder or climb on a chair to reach those high places. Just lift up the Extendable Baseboard Duster and let it do the work.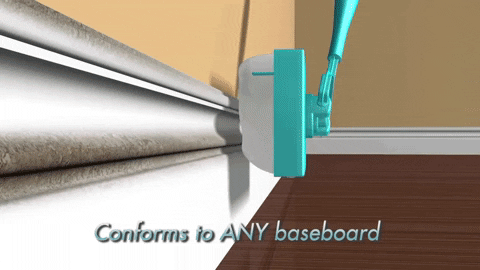 FEATURES:
Eliminates Stretching and Bending - Baseboard Buddy's adjustable handle helps you reach up high to crown molding, across door casings, and down to baseboards without having to climb on furniture or bend into awkward positions.
Flexible Head Design - Our Baseboard Duster features a 360-degree swivel-action head that enables you to clean baseboards and other surfaces from any angle.
Easy Ride and Glide - Our Baseboard Duster's microfiber cleaning pad takes the shape of your baseboards to make cleaning an easy and complete as it glides along the surface.
Use Wet or Dry - Whether you need a quick touch-up or a thorough cleaning, you can use the duster wet or dry to maintain that freshly-painted look.
More Than Just Baseboards - The microfiber pads can tackle just about any surface they can reach, from chair rails, banisters, fireplace mantles, and much more. The textured fibers trap dust and lock in dirt.
Easy Cleanup and Storage - Microfiber cleaning pads are easy to clean. Just rinse and reuse. The handle collapses for easy, out-of-the-way storage.
SPECIFICATIONS:
Material: Aluminum, Plastic, Ultra-fine fiber mats
Handle Length: 30cm-135CM
Diameter: 2CM
Brush Size: 11 * 8 * 1.5CM
Package Includes: 1 x Extendable Baseboard Duster