High Pressure Cleaning Nozzle
$31.97
$79.99
SAVE $48.02
Transform

Dirty Surfaces

To Look Brand New!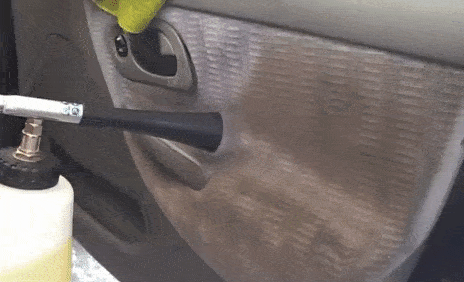 INSTANT CLEANING - Easily remove stains, dirt, grime, grease and much more with the power of high vapor pressure. Clean sofas, rugs, carpets, bathrooms and more

WORKS ON ANY SURFACE - Tested and 100% safe to use on all surfaces including fabric, metal, leather, vinyl, cotton, plastic and glass.

SAVE TIME & MONEY - Cut your interior and exterior cleaning time in half. Simplify your cleaning and detailing jobs with the fastest and easiest way to clean any surface. You won't be spending on auto detailing services with this pressurized nozzle!

EASY TO USE - Simply screw the nozzle attachment onto any air compressor. Fill the reservoir with water and laundry detergent for a chemical-free solution. Toggle the switch to begin spraying, that's it! This nozzle fits most air compressors or air source.

REDUCE CHEMICAL USE - With its powerful cleaning pressure, you won't need chemical cleaning supplies that can be harmful to your items or your family. With just water and simple detergents, you can get rid of tough stains.
PERFECT FOR CARS, CARPET, FURNITURE & MORE!
Dimension and Weight

Product weight: 0.8000 kg 

Package weight: 0.8100 kg 

Product size (L x W x H): 32.00 x 20.00 x 12.00 cm / 12.6 x 7.87 x 4.72 inches 

Package size (L x W x H): 30.50 x 26.00 x 12.50 cm / 12.01 x 10.24 x 4.92 inches
Package Contents:
1 x Cleaning Gun, 1 x Brush