Magic Non-Slip Door Mat
$30.97
$59.99
SAVE $29.02
Keep the mud and dirt away from your pristine floors with this Magic Door Mat!
The Magic Non-Slip Door Mat keeps dirt trapped at the doorway and out of your house. Unlike a traditional rubber backed mat that can stain your floor, this magic doormat has an anti-skid neoprene backing that is safe on all floors. No funny odors or the smell of rubber smell!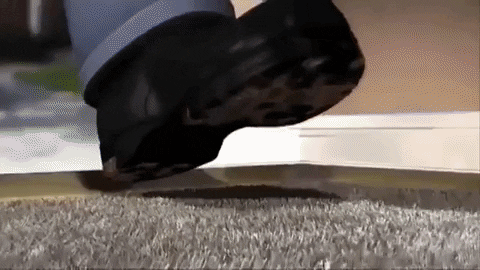 Created using high-quality cotton, the Magic Non-Slip Door Mat has a structure that absorbs liquid in an instant, while the microfiber locks in the dirt and muck. It stops sand, snow, grass, leaves, pine needles, and road salt at the door. The non-slip backing lets you wipe your feet thoroughly so that even the most stubborn of mud and dust particles stay at the door.
FEATURES
Keeps Dirt and Mud Away- Made with 60% cotton and 40% microfiber fabric, this doormat absorbs mud traps dirt on contact. No need to wipe your shoes repeatedly! This doormat instantly absorbs the dirt, keeping even your dog's paws clean when they walk in.
Super Absorbent - The superabsorbent fabric can hold more water than most regular doormats, perfect to contain spills and rainwater from boots and umbrellas.
Non-Slip Backing Design - Made with Anti-skid Neoprene, it won't slip or scratch the floor. This keeps the doormat from getting kicked off or slipping while someone steps on it.
Multi-Purpose - This welcome mat is crush, fade, mold, mildew, and rot-resistant, making it look like new for many years. It is suitable for multiple uses throughout your home, outdoor space, workplace, or garage.
Easy to Clean - It is machine washable, making it quick and easy to clean. A quick shake can also remove all the loose dirt it has caught from shoes.
Ideal for Family Homes - No need to remind the kids to always wipe their soles before stepping inside. The dirt and mud are removed from the shoes with just one step. Perfect for families who have kids or pets and ideal for use on rainy days.
SPECIFICATIONS:
Size: 46 x 70cm
Package Includes: 1 x Magic Non-Slip Door Mat