Metal Polish Paste
$12.97
$43.30
SAVE $30.33
In as little as 10 seconds, you can turn a faded, dull, and oxidized item to have a perfect mirror finish!
Used by professionals for years, Metal Polish Paste does a beautiful job of removing surface rust from chrome, polishing aluminum until it looks like new, and even sprucing up delicate, heirloom family silver without leaving scratches or abrasive marks. In addition to restoring the original luster, Metal Polish also leaves an invisible, protective coating to prevent further tarnishing and help keep the shine much longer. A solid favorite for home, industry, auto, motorcycle, and antique users. Metal Polish Paste is the fastest, most effective metal polishing and cleaning agent in the industry today.
FEATURES:
Long-Lasting Shine - The finest ingredients keep silver & other metals beautiful for years to come.
Restore - Removes old polish residue and stains.
Ammonia-Free / Safe - An anti-tarnish formula allows safe use on jewelry with diamonds or gemstones.
Protect - Anti-corrosion and anti-tarnish. The non-scratch formula leaves behind a protective coating that prevents tarnish from reforming.
Various Uses - Suitable for all metal surfaces. Can use for kitchen, car care, restroom, home care, car care, motorcycle care, marine care, metal care, industrial equipment, automotive polish, watches, or kitchen set.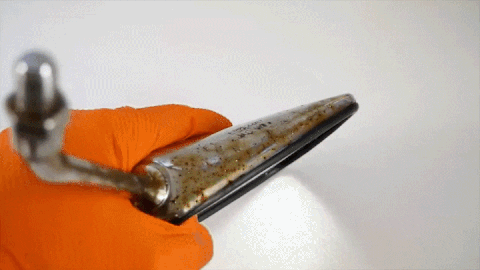 SPECIFICATIONS:
Packing content: 50g
Package Includes: 1 x Metal Polish Paste