Reusable Anti-Lippage Tile Leveling System
$32.97
$60.99
SAVE $28.02
The EASIEST Way To Lay Tiles Like A Professional and Save Time & Money. 

Want to be able to lay tiles like a PRO and get that FLAWLESS finish? Well, you need this Reusable Anti-Lippage Tile Leveling System which EASILY lay PERFECT titles on any DIY project. As a DIYer, tiling is one of those projects that is VERY difficult to replicate the work of a true artisan/professional. There are lippage and general unevenness, and ultimately you will end up hating the work you did.
However, that is NO MORE! If you are working on remodeling your bathroom, shower, kitchen or basement, this tool is a total MUST. Even professionals can use these to SPEED up their work. No more tapping and excessive thinset to make everything lineup. This system is COMPLETELY foolproof and SAVES time, stress, guesswork, and money. Perfect for amateurs and even professionals
Prevents tiles from Moving while Curing - You can lay tile like a PROFESSIONAL. All of your lineups will be completely FLAWLESS and everything will be 100% level within all four sides of the tile.
Reusable Tool - The Tile Leveling System is REUSABLE so you can do ALL of your projects. Suitable for 3mm to 25mm thickness of the tile, suitable for tile gap 2mm.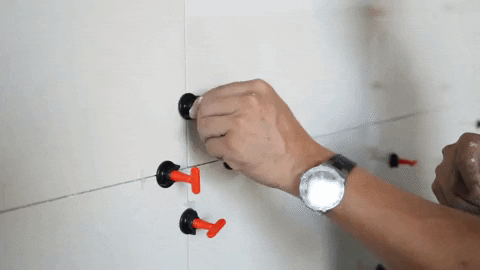 Material: PP
Gross weight: 320g
Net weight: 300g
Package includes:

50 x Reusable Anti-Lippage Tile Leveling System
1 X Special Wrench